Are you using your LinkedIn profile to its full potential?
Before you say yes, let us ask you a few more questions. Is your LinkedIn headline telling future connections about your most relevant strengths? Is your LinkedIn background photo looking good? Do you even have a LinkedIn background photo? If you're looking for a new job, can your current boss see your updates? Do you know how to let recruiters know you're open to opportunities?
If the answer to any of these questions is "no," take some time to read these 13 LinkedIn hacks—so that you're putting your best self forward on our favorite professional networking site.
Let's dive in! (or use these jump links to zoom down to your favorite hack!)
1. Create a Vanity URL
If you were starting a business, you probably wouldn't have a URL with nine jumbled letters and numbers. The same should apply for your LinkedIn Profile. If you're job hunting, networking, or simply doing career-y stuff on LinkedIn, the vanity URL is the first thing you should do.
No, it shouldn't be like your AIM screen name, though HockyGrl89 is a pretty cool screen name. Make it something fairly easy—maybe mimic your work email or personal email.
For example, our Content Director, Caileen Kehayas, has a unique first
and
last name. Arguably, Caileen is an easier phonetic spelling than Kehayas, so she opted for a
/caileenk
URL. If you have a common name, you might have to be a little more creative about making your URL unique.
Go over to
Linkedin to see what's available
—create your unique URL today and share it out!
2. Have a Great LinkedIn Profile Photo + Background Photo
We're deeply sorry to use this analogy, but Linkedin could be a place to showcase "your brand." Take this in stride, because it's actually really refreshing to personalize your professional persona wherever you can. To steal from our CEO, Lauren's favorite glitter and glue analogy, the bulk of your LinkedIn profile is going to be glue—very professional and informative. Your background photo is a chance to add a little glitter to your profile.
But, let's talk more about your profile photo. Ahem, your LinkedIn profile photo. There's plenty of social media platforms that are the perfect place for a cute beach selfie, a fun dancing photo, or a gorgeous shot of you at your wedding. Linkedin is not the place.
No, we don't all have money to purchase a professional headshot. I mean, who even has the time to coordinate that? The good news is that we can fake it pretty well.
Here's our guide
to getting a "professional headshot" to use for your
LinkedIn profile photo
.
3. Create a Dazzling Headline
Your headline should be a dazzling summary of who you are, what you do, and how you do it.
Ramona Singer, of the New York Housewives franchise, made a pretty impressive use out of her Season 10 tagline. In it, she qualifies a few things about herself, her business (Ageless by Ramona,) and her resilience into her tagline, declaring, "Age is an issue of mind over matter. If you don't mind, it doesn't matter."
While we're mostly kidding about modeling your "About' section after a Bravolebrity, this is a pretty good example of summarizing yourself into a succinct and impressive one-liner. Wow, Bethenny, wow.
Instead of listing "what you do", consider writing "what you do" plus "how you do it." For example, if you're a graphic designer, don't stop at "Graphic Designer". Add where your specialties lie—whether in web design, packaging goods design, or a perfected expertise in certain software.
If you role doesn't lend itself to any of the above, you can also consider using a few keywords or phrases that are used to describe your job. For example, if you're an "Administrative Assistant" you could add other terms to describe the work you do like support and operations, customer experience, executive assistant, or any other common words that more specifically describe what you do.
Use your Headline section to dazzle hiring managers, potential networking connections, and possible future employers. Keep in mind that, on mobile (at time of publish) LinkedIn will only preview up to 42 characters of your headline section.

4. Create a LinkedIn Profile Badge
There are many secrets to LinkedIn—and we think this is a pretty big one. Did you know that LinkedIn created a
Profile Badge
for the expressed purpose of inserting into your own blog, website, or personal portfolio?
If you have a blog or personal portfolio, take advantage of the Profile Badge. It's already formatted, coded, end ready to share. They even come in several formats and sizes to best suit your needs.
5. Arrange Your Information in Order of Importance
Linkedin allows you to include (or leave out) several sections. Showcase what you want to showcase. The LinkedIn profile sections include:
Intro
About
Background (Work Experience, Education, Licenses + Certifications, Volunteer Experience)
Skills
Accomplishments (Publications, Patents, Courses, Projects, Honors + Awards, Test Scores, Languages, Organizations)
Additional Information
6. Make Sure Your LinkedIn Profile is Mobile-Friendly
About
40 percent of LinkedIn users
are using the mobile app. While LinkedIn itself is mobile-friendly, you will want to ensure that your profile is, too.
Like we mentioned earlier, your mobile device will preview up to 42 characters of your headline. Additionally, it will only preview up to 140 characters of your "About" section—the exact length of a classic tweet. Make sure they count.
Frontload your headline and your summary with the most important keywords and details about you. Additionally, it will share your latest three pieces of activity—whether you shared, commented on, or liked an article. Under "Recommendations," the LinkedIn app will only show your most recent recommendation. Make sure it's a good one!
The best way to make sure your LinkedIn profile is impressive on mobile is by taking a look at yourself. Curate where you can. Make sure your "About" section isn't getting cut off before you share crucial information.
7. Hide Your Activity Status (Psst, Job Seekers, This Tip is For You)
This is an important hack, especially for employed job seekers. LinkedIn can actually be a pretty dangerous place to job search—we have heard horror stories of bosses being incorrectly notified that their employees gained new employment.
When LinkedIn debuted their "status" green dots, some job seekers were pretty upset. All of a sudden, their bosses had a clear view of their activity.
For those of you unfamiliar, this is what they mean.
The green dot with a white center notifies users that you have are available via the LinkedIn app on your mobile device.
The solid green dot is like a megaphone, declaring, "HELLO EVERYBODY, I AM ON LINKEDIN RIGHT NOW!"
The green dot is great if you want to make connections and use LinkedIn to network. However, when you're job searching under the radar, it's not so great. Here's how to
get rid of your active status
so you can browse sans green dots.
8. Be Active on LinkedIn (For Networking!)
Now, to contradict everything we said in tip number seven. Just kidding. This tip is specifically for those of us looking to build our careers—but who aren't looking for a career change right now.
LinkedIn is the best place to
make a professional connection
for the expressed (future) purpose of propelling or
transitioning your career
. Just like your running feed of images and stories you post to Instagram, you can use LinkedIn to create a timeline of interests, connections, and professional progress.
Did you go to market with an amazing new product? Post the press release! Did you write your first piece on Forbes? Post it. Did one of your favorite corporations launch an amazing initiative? Share that + share your feelings about it.
While LinkedIn, unlike other social platforms, is not the place for baby pictures or wedding announcements, it's a place for workplace and
career inspiration
. It's a place to create and nurture long-term professional relationships—and it's often as easy as a mention and a tag!

9. Let Recruiters Know You're Actively Job Searching
Recruiter and hiring managers aren't clairvoyant, but they are very active on LinkedIn. If you're looking for new opportunities, let recruiters know.
Under
Career Interests
, switch the toggle over to let recruiters know you're open to new paths. You can also be more specific and let recruiters know what you're looking for from there four options:
Actively applying
Casually looking
Not looking, but open to offers
Not open to offers
You can also set the locations, how close to your current home you'd like your opportunities, whether you're open to working remotely, and how much work you're looking for (ie. full-time, contract, part-time, internship, volunteer, or temporary.)
10. Know Who's Viewed Your Profile
When you're looking for a job or networking on LinkedIn, seeing who has viewed your profile can be pretty exciting. Getting more profile views can help the right people find you. Of course, make sure your profile is looking spiffy before reaching out to lots of potential connections.
More than anything else, it's actually fun to see who's looking at your profile. On your LinkedIn homepage, the "
Who's viewed your profile
" section will appear on the left side of your screen just under your profile picture and title. Keep in mind that some LinkedIn users choose to browse privately, so you might not see everyone—but you can get a pretty good idea.
11. Edit Your LinkedIn Profile in Private Mode (Turn off Activity Broadcasts)
If you've ever built a website, a portfolio, or a similar project that takes time before achieving a final status, you're familiar with the feeling of not wanting anyone to see the work in progress.
Good news. While you work on overhauling your entire LinkedIn profile, you can set it to private. Simply go to your
privacy settings
and edit your profile's public visibility until you're ready to reveal it to the world.
Once you are finished—and your sparkling LinkedIn profile is ready to be revered by recruiters everywhere—you can set your privacy settings as widely or as limited as you would like. You can choose whether you want your profile, LinkedIn photo, and other elements of your profile to be public, semi-public, or entirely hidden at any time.
12. Start Writing Recommendations
You know the old saying, "The best way to get a LinkedIn recommendation is to give a LinkedIn recommendation."
Okay, maybe it's not really an old saying, but it applies! Getting recommendations is a great way to show recruiters and hiring managers what your previous employers or coworkers experienced while working with you. While you can ask for a recommendation, we think the best way to get one is to give one first. Write a stunning summary for your old manager, then maybe submit a request for her to return the favor.
LinkedIn's Recommendations are (in our opinion) a vastly-underestimated tool. Who wouldn't want a
series of evergreen recommendations
written by real people, attached to their real accounts? Get to recommending!
13. Be Picky About Your Skills, Endorsements + Connections
There was a time when people went completely haywire with endorsements. So much so that there were huge questions of the
validity or impact of an endorsement
.
But guess what? They still (kind of) matter. Make sure all of the endorsements listed on your LinkedIn profile are relevant to the opportunities you are looking forward to. If you have acquired a good amount of skills and endorsements by now, go through them. You can toggle their visibility to be on or off. Let your future employers see the skills you want them to see—rather than being distracted by the fact that your 6th-grade art teacher has endorsed you for "Painting."
More Job/Career Ideas & Resources
---
Also, you're going to get spam requests. You might even get weird messages. Don't connect with everyone. This isn't a popularity contest, so connect with the people you really want to connect with.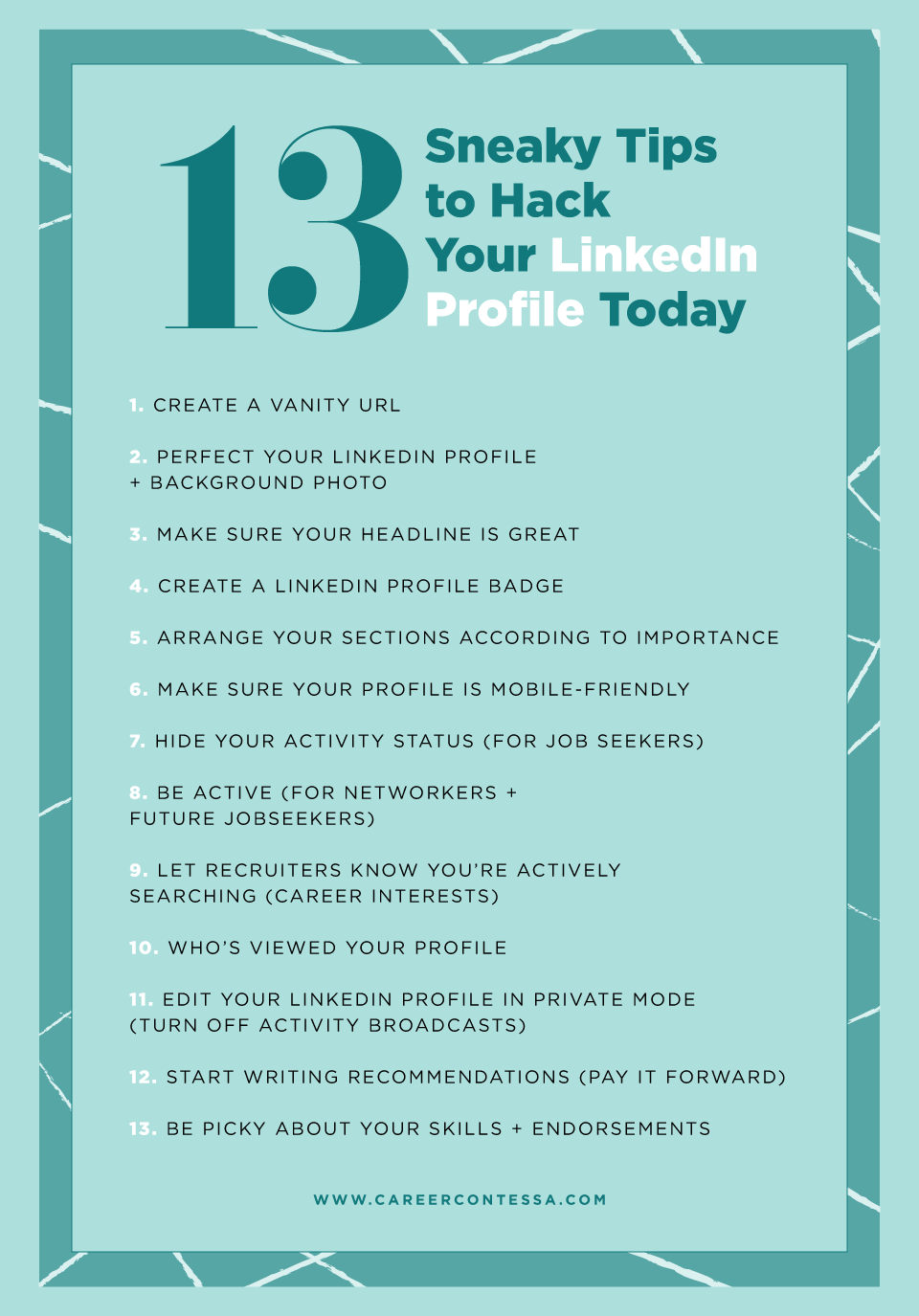 Article source: https://www.careercontessa.com/advice/linkedin-profile-tips%20/